EARTHING SWITCHES TYPE TEC and TEB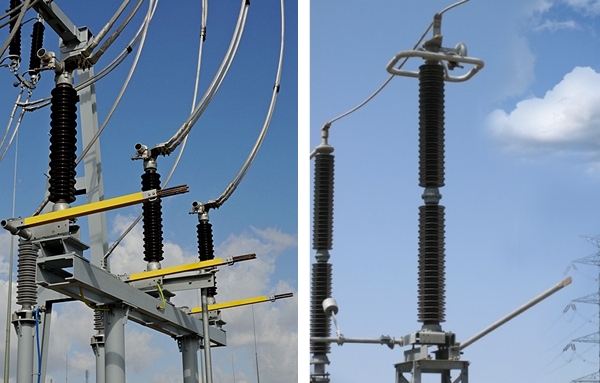 Rated voltage:
TEC 72,5 - 300 kV
TEB 170 - 550 kV
Rated short-time withstand current:
TEC 40 - 50 kA
TEB 40 - 63 kA
Earthing switches type TEC and TEB are used for earthing and short-circuiting disconnected sections of substation or plant.
They are designed for no-load switching and are able to disconnect low charging currents. Earthing switches type TEC and TEB are suitable for outdoor installations and can be supplied as the single-column free-standing earthing switch or as earthing switch built-on the same base frame together with disconnector type SGF or TFB.
The tubular arm of earthing switch is permanently connected with the earthed frame by means of a flexible connection. In open position the tubular contact arm is located along the base frame. During closing operation the arm turn up in vertical plane and reach the fix contact. In case of TEB earthing switch, in the end position, the earthing blade additionally moves up along its axis and is inserted into earthing contact.
Features:
1. WELDED ALUMINIUM STRUCTURE
The earthing switch arms are welded aluminium structures with a minimum number of terminal points that are subject to corrosion; thanks to that no appreciable change of the contact resistance over many years
2. ICE BREAKING CAPABILITY
Disconnectors for operations under severe ice conditions up to 20 mm ice thickness are available.
3. DEAD CENTRE INTERLOCKING
For all operating mechanisms. It ensures no change of the switching position in case of extreme external influences such as storm, vibration and earthquake.